Social Media Defying Social Distancing
It goes without saying that the world we are currently living in is the most surreal the majority of us have ever witnessed. That notion certainly rings true in the education world. Schools are closed for all children bar those few whose parents are key workers, meaning that learning has changed dramatically.  Face to face education is no longer applicable for children at home, meaning that schools have had to resort to other routes. Of course, physical packs for children were sent home to work through, but these can only last so long and always run the risk of being misplaced or damaged. With the new learning environment being at home for the foreseeable, a place where children usually relate to relaxing in the evenings and weekends, motivation is key. How can we keep children motivated and distracted from the horrors of current reality?
Technology is something we are all grateful for at the present time. Using video calls to contact family & friends, keeping up to date with the important headlines when we just cannot bear to watch the news on TV and using social media platforms to keep in touch with the loved ones we are forced to be apart from; technology is unique in the fact that it is exempt from social distancing.
With regards to education, technology is playing an ever growing part. More and more schools are sending text messages to update parents and caregivers of important issues regarding their children. Which is a far more efficient and direct approach in comparison to the alternative, more traditional manner of sending home letters in bags which get lost or forgotten about. Furthermore, the platform of emails has been around for a long time and is an effective tool of conveying important formal information. But in times like these, informal and light-heartedness is a welcome breath of fresh air from the worry and uncertainty from our current daily lives. This is where social media fills a gap no other form of technology can.
Children notoriously have short attention spans, teachers are challenged to find activities and resources that are long enough to engage, yet short enough to keep their attention. Twitter's tweet count limit of 140 characters adheres to this perfectly. A sense of less is more and small bursts of positivity. Teachers can also add videos and pictures to tweets for their pupils to engage with and the parents can reply to them for everyone else to see, so children can keep up to date on how their peers are doing at this time too. Of course this rings true with other social media platforms such as Facebook and Instagram where pictures, videos and text can be used to keep in contact with parents/ caregivers and children. But it appears Twitter has come through as the winner during this period of isolation. This could also be due to the hashtag feature on Twitter which allows us to view all tweets relating to a certain word or phrase. Searching hashtags such as #learninglockdown #homeschooling or simply # followed by the name of a certain school brings up a plethora of relevant tweets to read through and participate in. Why do you think Twitter has seemingly come out on top in the social media world?
It's clear to see social media has helped create a real sense of community and togetherness at a time when physically, we are further apart than we ever have been before. This pandemic has opened our eyes to a world of opportunities and flexibility. We have been forced to do so many of our day to day activities completely differently. Could social media in the educational world be something that thrives when this lockdown is over?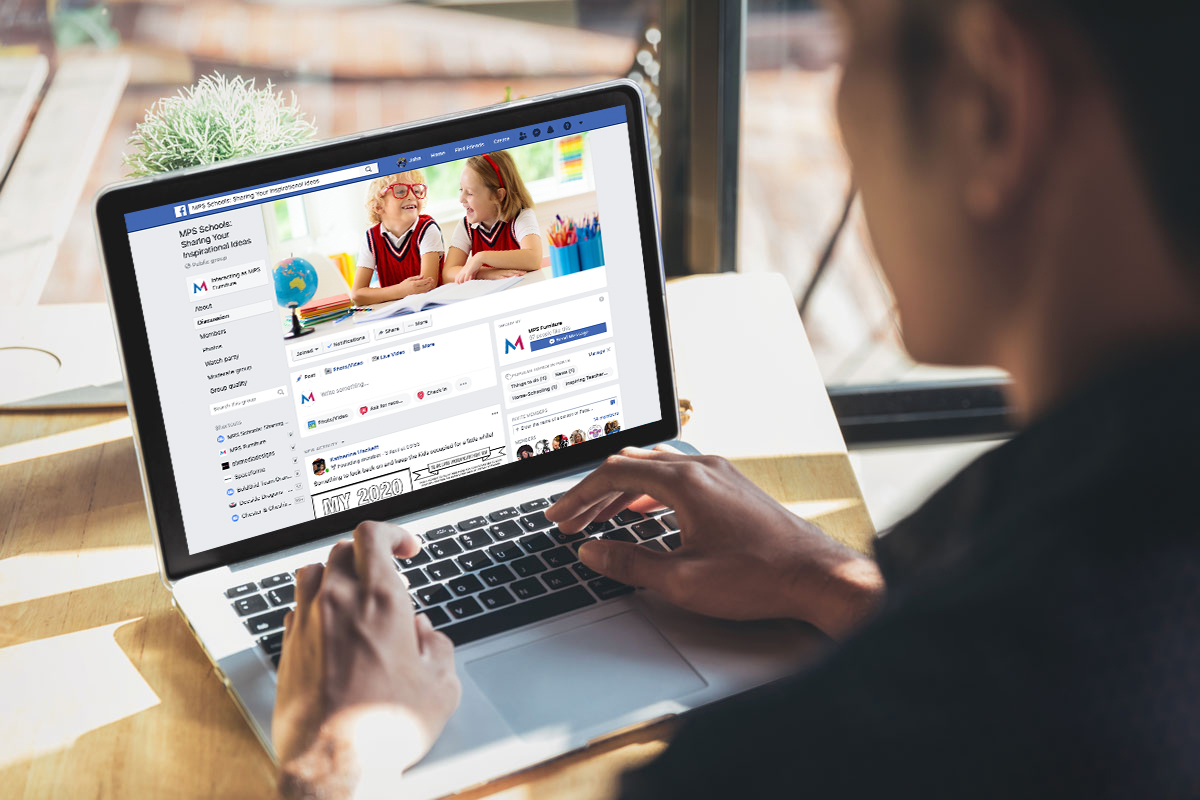 We here at MPS also love to stay active on social media. We have created our own page on Facebook called 'MPS Schools: Sharing Your Inspirational Ideas' to add our own little corner of positivity and inspiration. We encourage schools, teachers and parents alike to join and share stories and any activities you think would be beneficial to others. We would love to share some of these in a future blog post. Of course we also love to tweet and keep updated with how our customers are getting on via Twitter. Our Twitter handle is @mpsfurn– feel free to follow us!
Do you use Twitter or any other social media platforms? What are your views about social media within the education world?